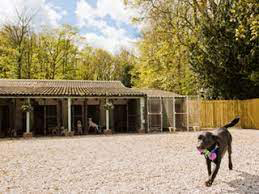 Dunston Lodge welcomes all breeds, sizes, and ages of dogs, including those with specific dietary or medical needs. We have single, double and family rooms available.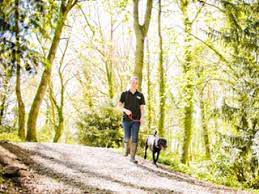 Should you need to be away from home for long periods during the day, either to work, perhaps to attend a wedding or enjoy Christmas shopping for the day, it is important to know that you do not need to leave your dog alone at home all day on its own…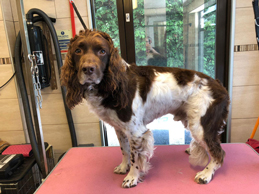 Headed by our amazing & fully qualified groomer, our dog grooming salon offers a full range of dog grooming service for dogs boarding with us and as a standalone service.
"Superior boarding & grooming service"
Welcome to Dunston Lodge – the region's first class provider of superior boarding accommodation & grooming – Just for Dogs!
Conveniently located on the edge of Chesterfield (just off the A61/Dronfield By-Pass), easily accessed from Sheffield & the M1, and set within its own private woodlands, Dunston Lodge offers boarding 365 days a year for short and long-term stays, including day boarding.
Dunston Lodge's grooming salon, run by our fully qualified groomer, offers a full range of dog grooming services, to dogs boarding with us and as a standalone service.
As a family business, established over 30 years ago, we have an enviably reputation that stretches across the East Midlands/Yorkshire regions & beyond, and pride ourselves in offering the best possible service and care for dogs.
You can be assured that we have a notably high staff to dog ratio, with a large team of loyal and highly experienced staff, who work hard to provide individual care and a professional service; treating every dog as if they were our own.
As dog owners ourselves we understand how difficult it can be to leave your dog in the care of someone else, especially for the first time.  At Dunston Lodge we welcome visitors at anytime during our opening hours, we are on hand to answer any queries and keep you fully informed of your dog's well-being while they stay with us.
With daily health checks, a vet on call 24 hours a day, and a full security system, including grounds covered by CCTV, you can go away with the peace of mind and reassurance that your dog is in safe hands.
Please read on to find out more about our services, including what our customers say about us, and feel free to contact us by phone or email to book or for any further information.
We look forward to seeing you.
Why Choose Us?
Boarding available 365 days a year
2 walks a day in our private woodlands
Daily health checks
Bathing & grooming facilities
Vet on call 24 hours a day
UK-wide collection & delivery
Varied menu with 3 meals a day
Loyal team of full time staff
High staff to dog ratio
Secure, with CCTV and electronic gates
Convenient for Chesterfield, Sheffield & area
A small selection of our happy customers…
"Maggie has been coming to Dunston for quite a while now and we wouldn't dream of taking her anywhere else. Richard and all his staff are brilliant and we trust them completely to do the best for her. We relax knowing she's well looked after."
"Three words sum up Dunston Lodge Kennels; Friendly, Flexible and Professional. Richard and his team offer a superb service – our dog, Scamp, has been a regular for 10 years, need I say more?"
"Our dog Millie has just returned from her fifth visit to Dunston Lodge beautifully groomed and full of beans (as we have come to expect). Our thanks to all the staff and the management. Dunston Lodge is without doubt our Kennels of choice and we would recommend the service you provide without any hesitation whatsoever. Keep up the great standards."
"From the moment you walk in, you and your dog feel special. Dog's name is on the board, he gets lots of fuss from everyone there. Beautiful and clean and happy when we collect him. Terrific kennels, treatment is second to none. Total professionalism and friendly. Best kennels in the area, would recommend to anyone. Thank you Dunston Lodge."