As we all find ourselves in this unprecedented situation of having the children off school for how long, we don't know, we thought we'd find them something dog related to do with their massive amount of spare time. So here's 20 books about dogs that your children will love, all with links to buy on Amazon… (synopses taken from Amazon)
1. Dogs in Space: The Amazing True Story of Belka and Strelka
Meet Belka and Strelka, the two dogs who changed the face of space history and became international celebrities in the process!
In 1960, two stray dogs were plucked from the streets of Moscow to become space pioneers.
This quirky and delightful picture book tells the incredible true story of these heroic strays. Selected from a number of potential canine cosmonauts, Belka and Strelka are put through their paces on the ground, as they practice rocket simulations and wearing spacesuits, before being launched into outer space as the first ever living creatures to successfully orbit the Earth.
Miraculously, the dogs survive the mission and upon their return embark on a tour of the USSR, clad in their carefully tailored jumpsuits – one red, one green – becoming international celebrities. As for their legacy, less than a year after their safe return the Soviet space programme felt confident enough to send the first human into space.
BUY ON AMAZON »
2.100 Dogs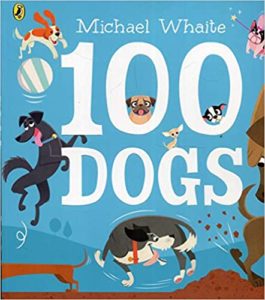 Can there really be 100 dogs doing 100 doggy things packed into the pages of this picture book? Follow the bouncy rhyme as it weaves its way through an array of hilarious hounds (from petted pugs to silly sausage dogs) and find out . . .
This silly celebration of dogs is bursting with funny details to spot and crazy, characterful dogs to fall in love with – a bark-aloud book to return time and again.
"Strong rhythm and rhyme perfectly combine to celebrate 100 dogs. Tiny tots will adore the illustrations and parents can introduce early learning skills: first steps in counting and reading through repetition and predictive rhyme. A joyous, interactive treat!" – The Best New Kids Books Summer 2019 supplement, distributed in The Guardian
BUY ON AMAZON »
3. Rebel Dogs! Heroic Tales of Trusty Hounds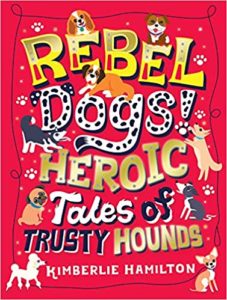 An engaging collection packed with over 30 real-life dogs, including film stars with fur, hounds that love to help, superstars of science and war heroes – these rebel dogs are the stars of their own stories.
With incredible fur-raising facts on record-making dogs, marvellous mutts in literature, internet-sensation pups and much, much more – this beautiful book is perfect for pup fans of any age.
BUY ON AMAZON »
4. I Want A Pet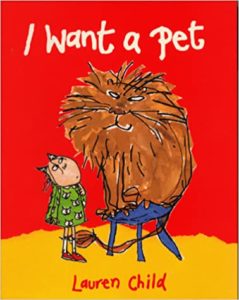 In this deliciously funny picture book from Children's Laureate Lauren Child a child really wants a pet – but Mum, Dad, Granny and Grandad aren't keen on any of her ideas! Sheep are forever following you around, an octopus would leave eight dirty footprints wherever it went and boa constrictors have a habit of wrapping themselves around you and squeezing too tightly… Can she find a pet that will please everyone? Perfect for any child who has ever wanted a pet, and any parent who has ever objected!
BUY ON AMAZON »
5. Survivors Book 1: The Empty City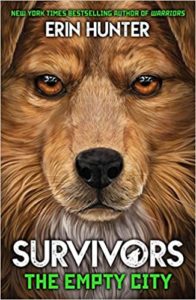 From the author of the US smash hit series Warriors, comes this action-packed animal fantasy series all about dogs.
Book one, 'The Empty City' begins with the Big Growl, a devastating earthquake that leaves towns and cities in ruins and dogs without their masters. Lone Dog Lucky must learn to live and hunt with a Pack in order to survive. But will he succeed?
Perfect for tween readers, Lucky's vivid point of view makes for the start of an addictive series that shows readers the world through the eyes of dogs. An action-packed series with authentic canine voices that will grip, excite and entertain in equal measure. It's time for dogs to rule the world …
BUY ON AMAZON »
6. This Is A Dog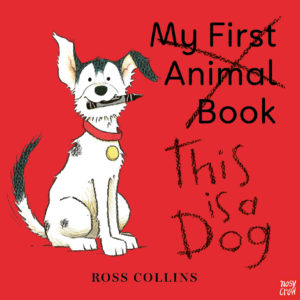 Nominated for the 2020 CILIP Kate Greenaway Medal
Uh-oh! An excitable (but very loveable) dog has found his way into this First Animals book and he will NOT let any of the other animals take their turn. Dogs are far more important, after all! And when the other animals get angry, this dog comes up with a very cunning plan to outwit them . . .
BUY ONLINE AT WATERSTONES »
7. Hairy Maclary from Donaldson's Dairy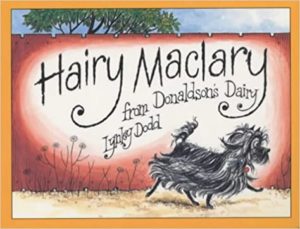 Hairy Maclary goes off for a walk in town, followed by a few friends – and comes up against a nasty surprise in the shape of Scarface Claw!
Discover the lovable rogue, Hairy Maclary, and his four-footed friends in this hilarious classic tale. With unforgettable illustrations and a brilliant rhyming text, it's a true delight to read aloud again and again. This new cased board book edition is the perfect size for little hands.
BUY ON AMAZON »
8. Clever Dog, Kip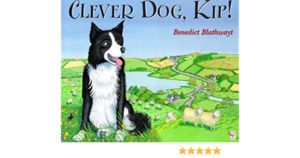 Kip the sheepdog lives on a farm, where he always has lots to do. He helps the farmer to bring the cow in for milking and unload the bales of hay, and rounds up the sheep. When the farmer takes the sheep to the market Kip goes too. But the naughty sheep run away and Kip must find them. So begins an adventure for the young sheepdog that leads him all around the town.
BUY ON AMAZON »
9. Oh No, George!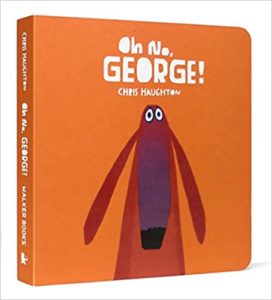 It's hard work being good all the time – and it's especially hard for a dog like George!
A board book edition of the hilarious read-aloud romp by the multiple award-winning author-illustrator of A Bit Lost and Shh! We Have a Plan, this is the story of George the dog. His owner, Harris, is off to do some shopping. "Will you be good, George?" he asks his dog. George hopes he can. He really wants to … but chocolate cake is just so very delicious and he does love to chase cat… What will George do now? Shortlisted for the Kate Greenaway Medal and the Roald Dahl Funny Prize, Chris Haughton's distinctive artwork perfectly accompanies the innocent charm of affable George, a dog trying to be good – with hilarious results!
BUY ON AMAZON »
10. Walter the Farting Dog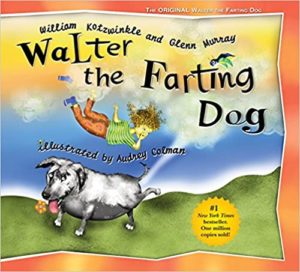 Warning: This book may cause flatulence. Walter is a fine dog, except for one small problem: he has gas. He can't help it; it's just the way he is. Fortunately, the kids Billy and Betty love him regardless, but Father says he's got to go! Poor Walter, he's going to the dog pound tomorrow. And then, in the night, burglars strike. Walter has his chance to be a hero. A children's beloved classic, this story will have kids rolling on the floor with laughter. Adults are permitted to laugh too.
BUY ON AMAZON »
11. The Poky Little Puppy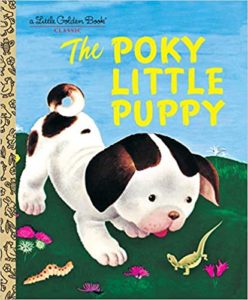 Five little puppies dug a hole under the fence and went for a walk in the wide, wide world. . . .
The Poky Little Puppy was one of the original twelve Little Golden Books published in 1942, and went on to become the bestselling picture book of all time. The story of a curious puppy, who digs holes under fences and who has to go to bed without any strawberry shortcake, has delighted families for generations. it is, quite simply, an icon. Delightful to read aloud, The Poky Little Puppy is a cherished story that every child should know.
BUY ON AMAZON »
12. Officer Buckle and Gloria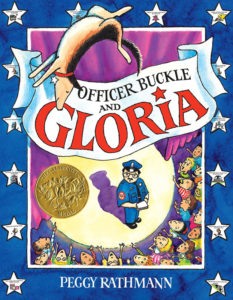 "Besides the beguiling story, the affable illustrations of the smiling Gloria, the accidental mayhem in the background, and the myriad safety tips — such as 'always pull the toothpick out of your sandwhich' and 'never lick a stop sign in the winter' — add to the enjoyment. A glorious picture book." — The Horn Book"Rathmann is a quick rising star in the world of chidren's books. In this book, she again shows her flair for creating real characters, dramatic situations and for knowing what will make young audiences giggle and think." — Children's Book Review Magazine"Rathman brings a lighter-than-air comic touch to this outstanding, solid-as-a-brick picture book." — Publisher's Weekly"A five-star performance." — School Library Journal
BUY ON AMAZON »
13. McDuff Moves In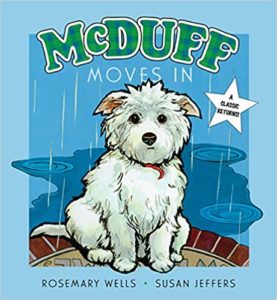 No one wanted the nameless little dog wandering the streets looking unsuccessfully for food and shelter until kindhearted Fred and Lucy, a young couple, take him inside. After they feed him rice pudding and bathe him, they realize that they cannot bear to return him to the pound. Newly adopted, McDuff-named that night for their favorite shortbread biscuit-is last seen happily asleep on his back on a pillow next to Fred and Lucy's bed.
Wells knows just the right words to describe McDuff's emotions in ways that little readers will identify with and understand. She describes his joy in being accepted with these words: "No one had ever asked him to come in. Everyone had always told him to go away."
BUY ON AMAZON »
14. Ribsy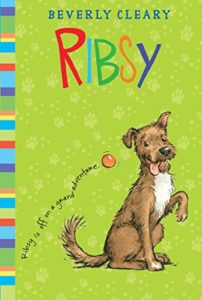 Newbery Medal-winning author Beverly Cleary gives Henry's dog, Ribsy, center stage in this dog's eye view of the adventure of a lifetime. This classic story about a dog and his boy is as fresh and funny as ever!
Good ol' Ribsy's ever-curious mind has always gotten him into trouble, but this time he may have gone too far. After a comical turn of events, Ribsy finds himself in the wrong station wagon with the wrong children.
Ribsy will do anything to find Henry, but there's plenty of excitement to be had along the way—and scoring a touchdown for a local high school team is only part of the fun!
For kids looking for a fast, funny dog story, Ribsy is a winner.
BUY ON AMAZON »
15. Dogs Don't Do Ballet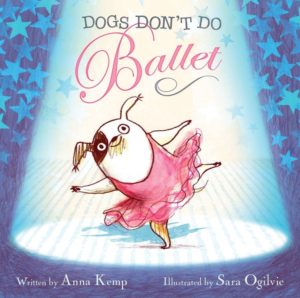 Meet Biff, an adorable little puppy who will stop at nothing to become a ballet dancer.
My dog is not like other dogs. He doesn't do dog stuff like weeing on lampposts or scratching his fleas, or drinking out of the toilet. No, my dog likes moonlight and music and walking on his tiptoes. You see, my dog doesn't think he's a dog. My dog thinks he's a ballerina!
A fabulous feel-good book about a small dog with a big personality and even bigger dreams.
BUY ON AMAZON »