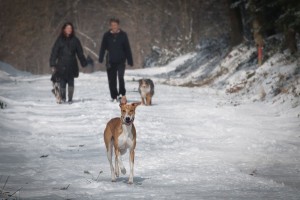 Now that Christmas is fast approaching and the weather has turned distinctly colder, it may not just be you that's feeling the cold. There are several things that you can do to protect your dog from the elements on winter walks, and as a top notch boarding kennels in Chesterfield, we've put together a few that we feel are particularly important.
Reflective Collars for Evening Walks
Shorter days can mean that your dog's afternoon or evening walk is in darkness, so it's important to ensure that your dog will be seen. Reflective or LED collars are a great idea, and can be picked up in most good pet stores.
Protect Doggy Pads from Snow, Ice and Salt
It's worth keeping a close eye on your dog's pads on winter walks. Snow and ice can understandably be uncomfortable for them to walk on after a time, and it doesn't take long for them to freeze. Also, salted pavements can aggravate their pads too, and may cause burning. Obviously dogs lick their paws, and you don't want them ingesting the salt.
You can buy protective booties for your dog, which will help, but some dogs won't tolerate them. If your dog won't keep them on, be sure to give his paws a good wipe when you come indoors.
Keep your Dog Warm
Although your dog may have a thick coat of fur, most dogs just aren't equipped to be out in freezing temperatures for long periods of time, especially if they get wet. Smaller dogs or those with shorter coats will need protection. There are a variety of coats that you can buy to protect your dog from the cold on winter walks, just make sure that it fits comfortably, doesn't affect your dog's mobility, and is easy to get on and off.
Don't Leave your Dog in the Car
Everyone knows not to leave their dog in the car in the summer, but it's actually just as dangerous in the winter. Never leave your car running with your dog alone in the car, as carbon monoxide poisoning is a real threat. The temperature will drop quickly when you turn the engine off, leaving your dog with no protection from the cold, so that's not a good idea either.
Beware of Antifreeze
Antifreeze may be essential for your car in the winter, but it is deadly for dogs. It does have a tendency to pool on pavements, driveways and roads; therefore it's easy enough for your dog to walk through it. Keep an eye out when walking your dog and don't let them sniff or taste anything that looks like it could be antifreeze. Also, wash or wipe their paws when you get home, so if they have had the misfortune of stepping in some, they won't get home and lick it off.
Winter Stays at Chesterfield Dog Kennels
Here at Dunston Lodge, we do everything we can to ensure that your dog's stay at our boarding kennels in Chesterfield is as comfortable as possible. Our rooms are fully tiled and insulated, heated, and include an individual electric heater to provide additional warmth. The beds are raised, with plenty of bedding and blankets, and all our doors and windows are UPVC double glazed, keeping your dog warmer in the winter months. So you can rest assured that your furry friend will be safe, warm and content on their stay with us.