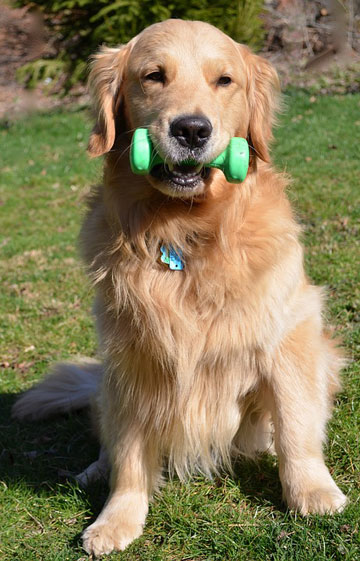 A documentary on Channel 4 called 'Dogs: Their Secret Lives' tackled the issue of canine obesity, stating that obesity in dogs has become a global epidemic. According to research gathered in the production of the show, approximately half of pet dogs in developed countries being classed as overweight or obese. So, as the eating season approaches, we thought we'd answer a few questions to help with the problem.
My Dog is Carrying a Few Extra Pounds – What Should I Do?
If you are worried that your dog is a few pounds overweight, the first thing to do is get in touch with your vet and book him or her in for a check-up and assessment. Lots of vet centres actually run special weight clinics which are mostly free, but if you don't have access to this service, an ordinary appointment will be just as useful.
Your vet will be able to offer you plenty of help and advice, recommending treatment that will focus on weight loss and maintaining this weight loss for the long term. This is achieved by reducing calorie intake and increasing the amount of exercise that your dog does. Your vet will help you to establish a long term diet plan, as well as giving you useful advice on keeping your dog active with regular walks and games.
What are the Risks of Obesity in Dogs?
There are many risks associated with a dog being overweight or obese. It can shorten the lifespan of a dog, and increase the chances of a dog developing serious medical conditions such as joint disorders, bone disorders, diabetes, breathing problems, incontinence and cancer. So, talking to your vet sooner rather than later is a good idea to ensure the future health of your pet and take the steps needed to return your furry friend to a healthy weight.
Doggy Diets at Chesterfield Dog Kennels
If your dog has a special diet plan that must be followed because of weight or health issues, simply let our expert team of kennel staff know and we will ensure that while they stay with us they will stick to it. So if your dog has a specific diet for that rounder than desired tummy, please tell us and we will be happy to ensure your requirements are met!