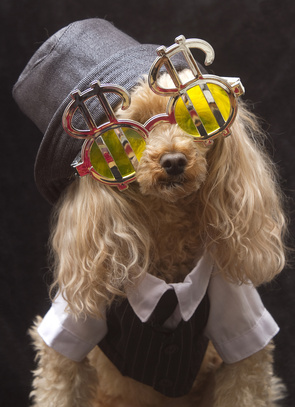 Yes, of course we adore dogs here at Dunston Lodge. But when the New York Times reported that a dog cost $230,000, we knew she must have been pretty special. Turns out, she is. The dog is a trained protection dog!
The New York Times reported "When she costs $230,000, as Julia did, the preferred title is "executive protection dog." This 3-year-old German shepherd, who commutes by private jet between a Minnesota estate and a home in Arizona, belongs to a canine caste that combines exalted pedigree, child-friendly cuddliness and arm-lacerating ferocity.
Julia and her ilk have some of the same tracking and fighting skills as the dogs used in elite military units like Navy Seal Team 6, which took a dog on its successful raid of Osama bin Laden's compound in Pakistan.
In fact, Julia was sold by a trainer, Harrison Prather, who used to supply dogs to Seal Team 6 and the British special forces. But then Mr. Prather switched to a more lucrative market.
"Either rich people discovered me or I discovered them — I can't remember which happened first," said Mr. Prather, the president of Harrison K-9 Security Services in Aiken, S.C.
Mr. Johnson said he got his first protection dog after receiving personal threats while he was running the Northland Group, a debt-collection company in Minnesota that he founded and eventually sold three years ago.
Protection dogs such as Julia are used throughout the world by various armed forces and police units. Trained protection and service dogs go through intense training programs in order to comply with complex commands and instructions. Pretty impressive.
Well, at Dunston Lodge, we love any dogs, no matter what their skills!