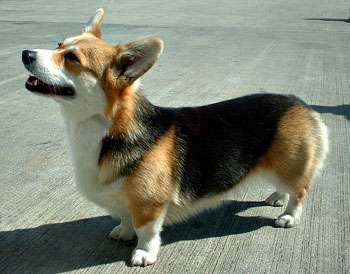 Dunston Lodge dog kennels in Chesterfield has learned that the Kennel Club considers a breed of dog to be vulnerable if their numbers are 'declining' and their 'status within the world of dogs has diminished over a number of years'. Back in June 2003, a decision was made by this famous organisation that research would be carried out to try to identify and confirm the relevant breeds and the extent and nature of their vulnerability. The work carried out concentrated on those breeds which achieve 300 or fewer registrations each year in the UK, and statistics were pulled together to identify the relevant breeds and the extent and nature of their vulnerability.
Corgi's Under Threat
According to the latest news reports, the number of Corgi dogs in the UK has fallen significantly recently, sadly placing them on the 'vulnerable' species list. It's the first time in history that the Pembrokeshire Welsh Corgi has been classified by the Kennel Club as 'under threat' of extinction, after they revealed that there are now less than 300 of them left in the United Kingdom.
A spokesperson from the Kennel Club told BBC news that the Corgi is believed to be an "old person's dog" and that "young people aren't buying or responsibly breeding the dogs." Some breeds, such as the French Bulldog, have risen in popularity in recent years, but statistics show that the number of Corgis in the UK has halved since 2006. Commonly thought of as the Queen's favourite dog, Corgis even appeared in the James Bond themed special video at the 2012 London Olympic Games.
The Kennel Club Vulnerable Breed List
There are now 29 breeds of dog on the 'vulnerable list' in the UK, including Bloodhounds, King Charles Spaniels, and Mastiffs, and many others. There is also a shorter list of breeds classified as 'at watch' which include English Setter, Old English Sheepdog and Welsh Springer Spaniel.
Boarding Kennels and Dog Grooming in Chesterfield
As huge dog lovers and fans of every breed imaginable, Chesterfield dog kennels were surprised that such a well known breed of dog such as the Corgi was classified as vulnerable. Dog breeds come in and out of fashion (sadly), the same way that anything else does, but the Corgi has always been thought of as a classic British dog breed with strong ties to the Royal Family. Let's keep our fingers crossed that this lovely breed of dog is around for many years to come!